Story time, kids! Sit down, grab a warm cuppa joe or tea and read along with me (hehehe, I always wanted to be a teacher).
So, one of my FAV designers -
Christina Renee Designs
- has opened up at a new shop! She used to run her own shop, CRD and it was fab-U-lous! It's been closed for like ever now so when I got the newsletter from her with the WHERE her new shop was... well I ran on over to
O'Scraps
! Now I have been receiving the O'Scraps newsletter for some time and I look around and stalk some blogs but never really shopped there. With
Christina Renee
opening there, I went in to grab her newest kit and then went to see what else was around and that's when I fell in love with...
Yep, its Ashalee Wall and I just love her stuff! I am stalking
her blog
and she even has her own
little shop
too. So, do you wanna see some of her stuff? Of course ya do! I just love all the swirls and flourishes that she uses in her product. Those are what got me into digital in the first place. So I grabbed this set of Fillers along with another similar one with diff colors.
I also grabbed this lil' mini kit, as well as some others. I just love the simply elements but still stunning.
Ashalee had a new product in her O'Scraps shop that was so adorable that I suggested doing the same with a Christmas theme and.... she did!!!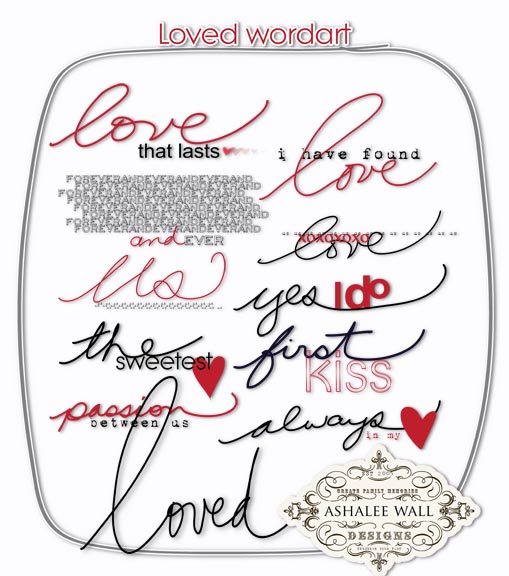 She has beautiful handwriting and these will look stunning on my Christmas pages. So... whatcha think? Everything is linked so check out her shoppes and her blog and fall in love too.
That's all I have to share with you right now. I have been working like crazy lately with the holidays (retail) so I hadnt scrapped a layout all month until the other night. I did 2 that night and 3 last night so I will post those soon. It felt good to scrap again, I know that! Chat with ya soon!